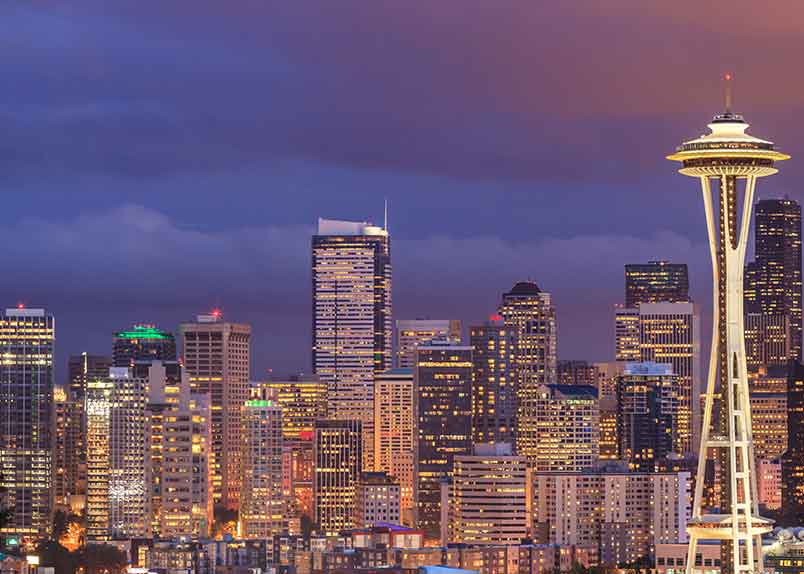 Smart Charge America is opening our latest location for electric car chargers, in Seattle. With offices in most major cities and over a dozen states, Smart Charge America is helping bring the entire country into the future. Setting up shop in Washington opens up a new important market and marks our twentieth major location. We're thrilled to celebrate this milestone in one of the most exciting cities — not just on the west coast, but on the entire planet!
The experts at Smart Charge America are industry leaders in residential, commercial, and municipal electric vehicle charging solutions. Whether you need to charge the family car or an entire fleet, we are here to keep batteries full and wheels on the road. As Seattle leads the country in EV adoption, we'll be right there with the knowledge and experience necessary to make it happen.
We install and maintain EV charging stations. EV owners are among the most discerning consumers, which is why we offer only top brands of residential and commercial chargers. You can even install a Tesla Powerwall to store energy for your entire home. Smart Charge America also offers software for fleet management and turnkey business solutions. From home charging to EV entrepreneurship, you'll find what you need to be successful with Smart Charge America. We're proud to offer all of these services and more to the people of Seattle.
Seattle Embraces Electric Vehicles
Whichever way you look at the numbers, Seattle is one of the nation's top cities for EV ownership. According to studies that track a variety of metrics, including purchases of new and used electric cars, Seattle leads the pack in embracing the EV lifestyle. That's no surprise from a city that's offered curbside recycling as far back as the 1980s. Maybe it's the view of Mount Rainier, but few city-dwellers take the environment as seriously as Seattleites. As electric vehicles continue to become more widespread, Smart Charge America will help the people of Seattle find the most convenient and affordable ways to keep their cars charged.
EV Infrastructure in Washington
Seattle has always been a city where people are ahead of the trend. While Seattle already numbers among the country's best cities for EV ownership, the Emerald City continues to make the news with commitments to grow EV infrastructure. According to the Clean Transportation Electrification Blueprint, Seattle aims for most of its vehicles to be electric by 2030. The goal calls for 90% of personal trips to be emission-free, meaning a skyrocketing demand for electric vehicles and charging solutions.
Most recently, Washington's governor signed an executive order declaring retired government vehicles must be replaced with electric vehicles. With agencies all over Washington affected by this order, Smart Charge America has the experience necessary to help a city keep electric fleets charged and on the road.
Get Started with Smart Charge America
In Seattle and across the country, it's easier than ever to get the EV charger you need from Smart Charge America. Whether you're retrofitting an existing building or planning for new construction, we will make it happen. You can get a free quote today for a residential home, commercial business, or municipality. To better fit your schedule, we don't even need to see the location in person to offer you a quote. Simply fill out the mobile-friendly form and take a few pictures, and we'll take it from there.
Just as the benefits of electric vehicles continue to spread across the United States, Smart Charge America will keep expanding into new cities and exciting new markets. The EV revolution is changing the way we travel, and Smart Charge America makes it more convenient every day. While Seattle works hard to reach its climate goals, Smart Charge America will strive to reach our goals of bringing the best EV charging solutions to people all over the country. If you're ready to get the most out of your electric vehicle, contact the team at Smart Charge America today!