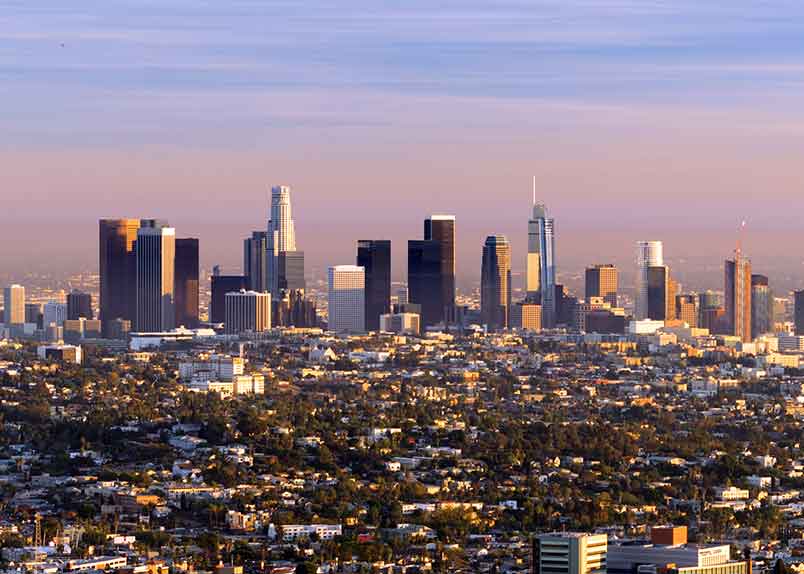 Electric Car Charging Opportunities Expand in Two Exciting Cities
We are proud to announce that Smart Charge America has expanded its electric car charging station installation services to Atlanta, Georgia, and Los Angeles, California! It's now easier than ever to access convenient electric vehicle charging in two of the United States' most progressive cities!
Smart Charge America provides commercial and residential charging stations for electric vehicles. We offer top-of-the-line solutions for every budget, with options for full-service installation, maintenance, and support. From installing electric car chargers at your home to installing commercial ev charging stations at offices, apartments and retail locations, Smart Charge America will keep you moving. Explore our full line of products here.
Atlanta, Georgia – The City in a Forest
With one of the most lush tree canopies of any major metropolitan area, Atlanta has always been a "green city." The people of Atlanta put their enthusiasm for electric vehicles in writing in 2017, when they passed an ordinance requiring new commercial and residential construction to be EV ready. They also reinforced their desire to transition their city fleet to alternative fuel vehicles. One of the largest economies in the country — and the world—with one of the nation's highest concentrations of Fortune 500 companies.
With exciting connections to business and culture and explosive population growth, Atlanta is definitely a city we want to call home. The city's Power to Change Plan is working to reduce vehicle emissions in the city by 20% by 2020 and transition to 100% clean energy sources for municipal operation by 2025 and the entire city by 2035. Atlanta's commitment to forward thinking made them the perfect location for Smart Charge America to set up shop. We look forward to doing our part in giving the people of Atlanta access to efficient charging solutions.
Los Angeles — The City of Flowers and Sunshine
Los Angeles keeps raising the bar for sustainable growth. This is an essential step as Los Angeles continues to grow at an exponential rate, retaining its status as the largest city in California; experts estimate that the city will have a population of 11.5 million by 2060. The city showed their enthusiasm with the Sustainable City Plan in 2015, and they have since passed their own Green New Deal. They aim to achieve the lofty goal of increasing electric vehicles in the city to 25% by 2025 and 100% by 2050. Like Atlanta, the city is also working toward replacing their entire city fleet with electric vehicles.
It doesn't end there: they've established plans for planting trees, sourcing local water, creating green jobs, and supporting renewable energy efforts. By thinking both short and long term, Los Angeles is jumping into the future with both feet! At Smart Charge America, we want to be involved in this type of optimistic vision. We're excited to be part of the solution in one of the world's most iconic cities!
A Nation of Opportunity for Electric Vehicles
Now that Smart Charge America is active in Atlanta and Los Angeles, we are two cities closer to our goal of operating locally in the nation's twenty most EV-friendly cities. As electric vehicles overtake the market, we will be there to create jobs and help people, businesses, and municipalities keep their wheels turning. Our superior products, ease of use, and professional service make us the perfect solution in these communities of the future.
Where will Smart Charge America emerge next? We have big plans, so watch this space to find out! In the meantime, visit our interactive map to find your nearest Smart Charge America location. Call us today, and we'll help find your perfect electric vehicle charging solution!