Electrify America
The Electrify America electric car charger will quickly charge electric cars like the Chevy Bolt, Nissan LEAF or BMW i3 and plug-in hybrid (PHEV) models like the Chevy Volt or Ford Fusion Energi.
A simple wall outlet just doesn't cut it anymore to charge your electric car. Charge your electric car more quickly with the Electrify America Home Charger, a 240-volt Level 2 home charger that delivers up to 32 amps of power to keep you driving.
Charging Status Light
It's easy to see your charging status with the LED color indicator. The ring around the charger will flash blue when your car is charging and light up green when your battery is full. In order to save electricity, the light will dim when you move away from the charger.
Install Indoors or Outdoors
The NEMA 3R enclosure protects your charger so it can be mounted inside or outside. The 24-foot long cable makes it easy to plug in your car no matter where the charger is mounted. Placement and environmental factors can affect performance – see Operating Instructions for details.
Flexible Installation Options
The L2 home charger comes with a standard NEMA 14-50 supply power plug. The unit can also be hardwired by the Smart Charge America installation team.
See Our Unboxing Review Video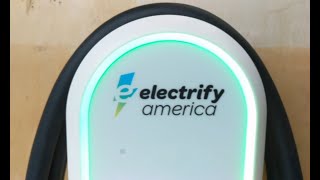 To purchase the Electrify America electric car charger, request a free quote for installing a home electric car charging station and be sure to mention the Electrify America charging station to your Smart Charge America advisor.
Request Installation Quote
Out of stock
Additional information
| | |
| --- | --- |
| Vehicle Type | Nissan, Chevrolet, BMW, Ford, Other |
| Cable Length | 24 Feet |
| Installation Type | Plug In |
| Weather Rating | Indoor, Outdoor |
| Charging Level | Level 2 (240 V) |
| Output (kW) | 7.6 kW |
| Amps (A) | 32 Amps |
| Volts (V) | 240 Volts |
| Warranty Protection | 3 Years |
| Ports | Single Port |
| Networking | Networked |
| Cable Management | Straight |
| Manufacturer | Electrify America |