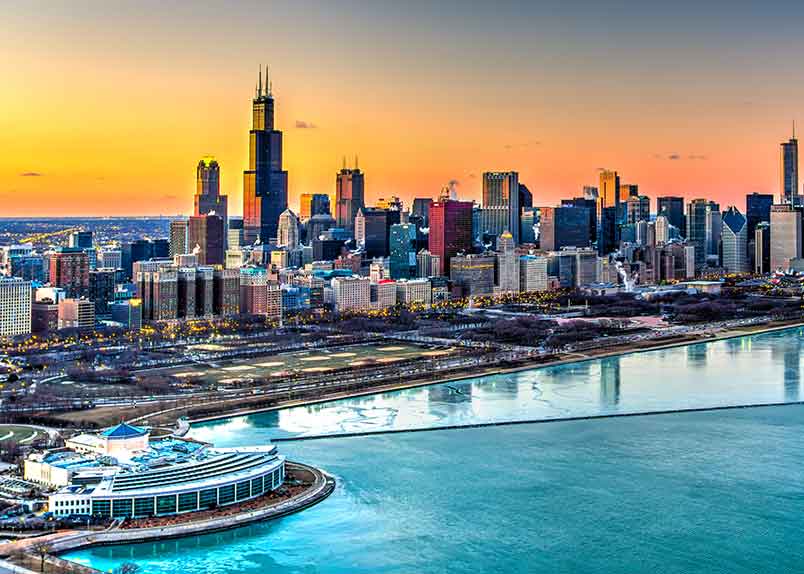 Smart Charge America has expanded into the Windy City! We are thrilled to announce Smart Charge America's newest location in beautiful Chicago. With this latest milestone, Smart Charge America is now located in fourteen of the most important cities in the United States, with new locations opening soon.
We make it easy to install the latest in electric vehicle charging solutions for your home or business. From a single car to an entire fleet of service vehicles, our teams are equipped to keep your electric vehicles doing their job. Whatever your space or budget, we will find the charging system that works for you. We would love for you to explore our efficient, durable options for home charging stations and commercial charging stations.
Chicago: A History of Electric Innovation
Since the bright lights of the 1893 World's Fair, Chicago has been known as a city of forward thinkers. As early as 1917, the Milburn Wagon Company started a service for drivers of early electric vehicles, allowing them to exchange their batteries to quickly get back on the road. Chicago was on the right track even then, and it just took the rest of the world some time to catch up.
Fortunately for forward thinkers, electric cars have come a long way since the old days. They've become more efficient, more convenient, and certainly more fun to drive. But in all that time, one thing hasn't changed: Chicago's commitment to forging ahead. It's no surprise that the electric vehicle market share is skyrocketing in Illinois. And recent electrical vehicle legislation demonstrates that Chicago is still leading the nation.
The Electric Vehicle Supply Equipment-Ready Ordinance
The Electric Vehicle Supply Equipment-Ready Ordinance, or the EVSE-Ready Ordinance, represents Chicago's plan for the future of electric vehicles in the city. This ordinance, which takes effect this fall, represents a monumental shift in the value of electric charging stations in Chicago. Few cities have made this change, but many will surely follow Chicago's example.
Under the ESVE-Ready Ordinance, a greater number of multi-unit residential and commercial properties are required to reserve parking for electric vehicles, and properties must set aside a higher number of spaces than in the past. While previous rules required properties to offer parking that could someday charge vehicles, the current ordinance states that designated spaces must offer functional charging equipment.
Driving Electric Vehicles in Chicago
For Chicago, there has never been a better time to own an electric vehicle or to install an electric car charging station on your property. You deserve to embrace the freedom of owning an electric vehicle and enjoy the convenience of a quality charging system. As Chicago continues to build its electric vehicle infrastructure, we will be there to help.
We fit right in with The City that Works because we offer the solutions you need to keep your electric vehicle running. Our units conveniently charge your car up to ten times faster than a standard 120V outlet. This makes it easier for electric car owners to plan their day and for businesses to keep traffic moving. We're excited to bring our affordable, reliable charging options to the people of Chicago.
The Best Electric Vehicle Chargers for Chicago
Don't entrust your property's charging needs to an electrician who has never installed such a device. From home chargers to full turn-key operations, you can rely on Smart Charge America. We offer the installation, maintenance, and repair you depend on to meet every challenge. Whether you're building new construction or retrofitting your current property, we want to work with you.
With locations in over a dozen cities, Smart Charge America continues to create new opportunities for property owners and drivers of electric vehicles. We hope you will join us on the journey. If you need a charging solution, our online system allows us to provide a free quote or your business. We can also provide a free quote for your home using just your phone, without the need for a salesperson to visit your property.
Thank you, Chicago. We look forward to building the future together.